In
troduction
Definition of sustainability and its different aspects
The approach to sustainability followed by Real Green Lighting is known as the three-pillar model*, which takes into account economic, ecological, and social aspects.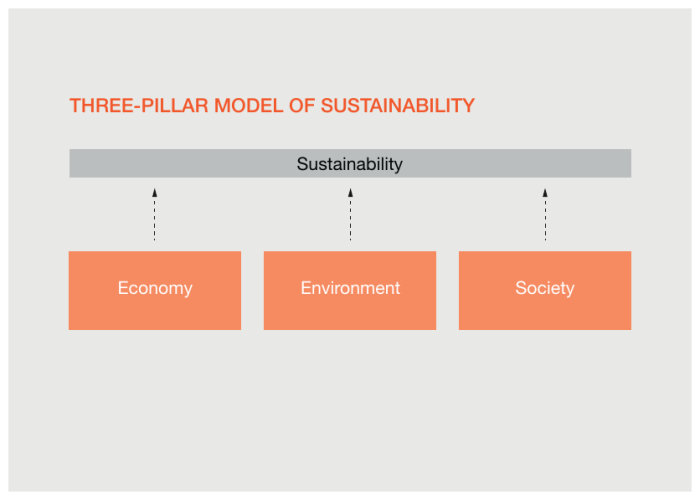 Stakeholder Dialogue
Acting sustainably as an international company requires the constant engagement with different stakeholders. Only so can we establish mutual trust, contribute to spreading sustainable concepts and receive feedback about our own actions.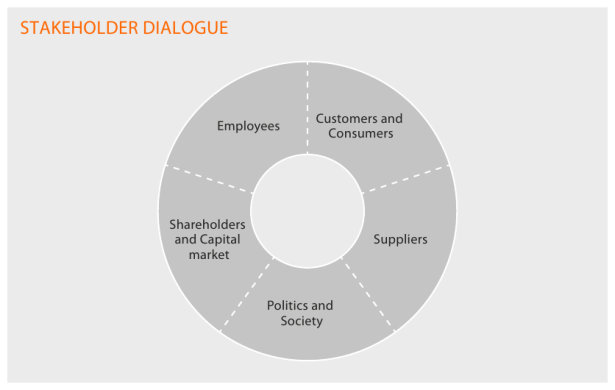 Our holistic approach to sustainability is completed by the social aspect. We consider ourselves to be a responsible member of society. Firstly, we are a socially responsible employer, taking measures to promote our employees' health and providing a safe working environment, for example. This also extends to the areas of education and training, diversity, and balancing work and family life. Even during times when restructuring is required, we are conscious of the responsibility we have to our employees in relation to the measures to be taken. Secondly, as a global company, we operate in many different cultures and societies and support numerous local and international projects that put the subject of lighting in a social context,such as providing more efficient solutions for educational establishments.
Employees
Real Green Lighting success comes from its employees and as a global employer it treats each employee with appreciation and respect. Not only do we offer a fair salary and attractive benefits, but also a motivating working environment and an atmosphere of trust. In addition, every employee has the possibility of fully developing their capabilities and their professional and personal skills. In order to continue at the forefront of the competitive and dynamic environment of the changing lighting market, we offer our employees a number of programs, projects and activities for further training.
Customers and Consumers
Real Green Lighting success is closely linked to the satisfaction of our customers. We therefore measure it constantly using the Net Promoter Score (NPS). The customer satisfaction survey not only provides one of our most important indices, it is also the starting point for identifying ways in which we can make sustainable improvements to our products, solutions, and services to further increase satisfaction. The positive development of the NPS over the last few years confirms our decision to consistently pursue this strategy.
We have also established a global key account management team for our customer relations. In addition, members of the Managing Board are in direct two-way contact with our customers to understand their requirements even better.

Suppliers
Sustainability plays an important role in the supply chain as part of a global economy. We expect our suppliers to adhere to basic values in human rights, labor standards, environmental protection and the fight against corruption, among others. In order to ensure this we hold intensive discussions with our suppliers to create a common understanding of basic values. In addition, we use tools and processes to support our suppliers as implementation partners and to verify compliance.
Cooperation for spreading sustainable solutions
Looking beyond our internal requirements, we are committed to contributing to a sustainable change in the lighting sector. That is why we are in dialog with many organizations and associations, are participating in initiatives, and have built long-term partnerships.

Governments and authorities:
We provide expert support to governments and authorities for finding sustainable development solutions and play an active role in the development of guidelines for using energy-saving lighting technology.
Neighbors:
As a global company we are also committed to our local responsibilities. Real Green Lighting is based at a number of locations worldwide. At these locations our neighbors and other local stakeholders are particularly important for us. Our site coordinators are responsible for dialogs with our neighbors, always tailored to the actual situation on site.